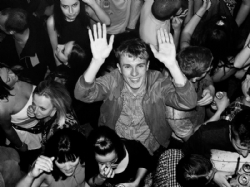 20th May 2014
Three years after Lancaster Castle closed its prison doors, this weekend the former Category C cells will be reopening to bring a unique night life experience to Lancaster. 'A-Wing' will become an intimate two floor venue, hosting a series of events throughout the year.
The doors open for the first time this bank holiday weekend from 23rdMay, presenting three successive nights of varied music. The event comes as part of Lancaster Castle's first anniversary celebrations, since opening its gates to the public last May.
It is set to draw a new audience to the Grade One listed building, with top names like Rob Da Bank, James Zablela and Derrick Carter headlining the weekend.
Lancaster Castle's event manager, Francesca Lewis, said:
"A-Wing is a great opportunity to bring Lancaster Castle into the 21stCentury and showcase a unique venue to a new audience as well as opening a new space suitable for a variety of events. So far the event has received a positive response with good ticket sales and healthy following on social media.
The music event begins at 9pm and continues through the night behind sound-proofed walls, concluding at 4am. Extra security has been called in to ensure a peaceful evening and minimum disturbance to local residents.
Owners of Lancaster Castle, the Duchy of Lancaster will be donating the licence fee for the event to local Christian charity, The Olive Branch, helping the socially disadvantaged in Lancaster.