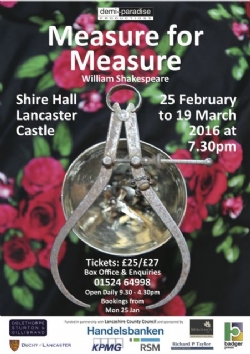 22nd January 2016
In February and March 2016 the Shire Hall at Lancaster Castle hosts an intimate and immersive promenade production of William Shakespeare's Measure for Measure, produced by the castle's resident professional theatre company Demi-paradise Productions.
Set in the 1950s, the exciting production will be highlighting the play's dangerous romance, wit and consuming passion with a live and recorded sound track to match.
Tickets will be on sale from 25 January priced at £25/£27.
There is a reduced-price 'family friendly night' on Monday 14 March and a 'students and young-persons' matinee' on 5 March, both priced at £12.
Performances begin at 19:30 (the 5 March matinee at 14:00).
Box office and enquiries: 01524 64998.
More information:
www.lancastercastle.com/event/measure-for-measure
Unfortunately, due to the promenade nature of the performance, it is not suitable for wheelchair users.