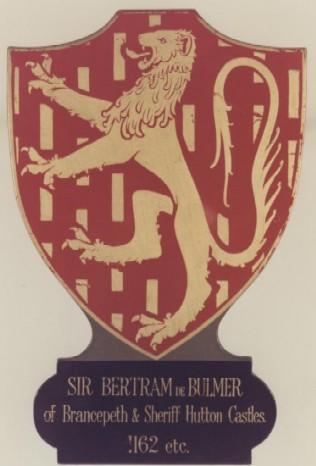 Title:
High Sheriff of Lancaster
Name: Sir Bertram de Bulmer of Brancepeth and Sheriff Hutton Castles
Herald date: 1162
Gules, billette Or a lion rampant of the last
Unusually, the de Bulmer family were Saxon rather than Norman in origin. The family seems to have thrown in its lot with the Normans fairly early and as a result enjoyed considerable political advancement.
Bertram, as Sheriff of York, was also given responsibility for the area between the Ribble and the Mersey and it appears that these duties remained with the family for many years.
The family's powerbase remained in Yorkshire and County Durham, with the family seat being Malton. They were responsible for the construction of two castles; Brancepeth and Sheriff Hutton. The name Bertram was passed down through several generations.
A bertram de Bulmer is listed as being present at the signing of the Magna Carta at Runnymede in 1215. When the male line of descent died out soon after this date the family lands passed, through marriage, to the powerful Nevilles of Raby.