Throughout its life as a prison, Lancaster Castle has often been viewed as an extremely well-run and humane establishment. Life, harsh as it undoubtedly was for inmates, was often made bearable by the enlightened thinking of the various Governors of the prison. Lancaster Castle was one of the first gaols in England to segregate its inmates by age and gender.
Guided tours of the Castle include visits to its 18th century cells, Pentonville-style male penitentiary, dedicated debtors' prison area and female penitentiary based on Bentham's famous panopticon design.
Children in Prison
Before the introduction of the Borstal System, children were regularly imprisoned alongside adult offenders.
An example of a typical case would be that of two boys aged 11 and 13 who in 1899 were convicted of causing wilful damage to a door by throwing mortar at it. They were sentenced to five days' hard labour or a fine of 7s 6d. The high level of poverty prevalent at the time often meant that hard labour was the only option available – even to children.
Debtors Prison (Hansbrow's Hotel)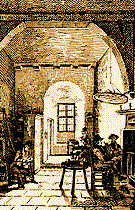 From 1833 to 1862 Captain James Hansbrow was Governor of the Castle, and he frequently received letters addressed to debtors, c/o "Hansbrow's Hotel"- giving us a clue about the conditions that existed with the building, for some of the inmates at least…
During the 18th and 19th centuries, until the Bankruptcy Act of 1866, Lancaster Castle housed between 300 and 400 people in the debtors' prison at any one time. Insolvent debtors were required to work within the prison and, in return, received, 3ozs bread and 4ozs oatmeal daily, and 1oz salt and 10lb potatoes weekly.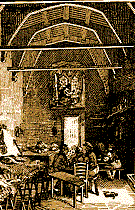 If the debtor still had access to money, life was quite different. A choice of 22 rooms was available, priced from 5s (25p) to 30s (£1.50p). The fee included fire, candle, use of culinary utensils, and the services of a "room-man" who did the cooking, cleaning, and waiting-on. Debtors could have beer, wine and tobacco but not spirits. They could buy newspapers, food and clothing, follow their trades or professions, and have visitors from 8 am to 8 pm. Their days were spent playing games in the courtyard, and any musicians who were imprisoned would often play at concerts or dances to amuse their fellow debtors. A debtors' market was held in the Castle Yard where meat, bread, butter, groceries, vegetables, fish and fruit could be purchased.
Transportation
The standard minimum charge for transporting a prisoner to the colonies was £8.10s 2d but this could rise to as much as £12.
The gaolers received a set fee per mile for each prisoner, no matter how many convicts they took at a time, and could make a good profit by conveying prisoners in groups.
Women and men in poor health often never left at all since the County did not transport those thought unable to support the rigours of the voyage or unlikely to find employment at its destination.
Convicted felons awaiting transportation were, in law, entitled to the "King's Allowance" of 2s/6d a week, but few ever received it.
Records indicate that one prisoner was sentenced to transportation for "maliciously destroying cotton goods in a process of manufacture."
Famous Prisoners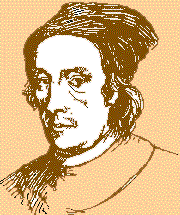 Father Edmund Arrowsmith
Ordained a Roman Catholic priest at the age of 27, Father Edmund Arrowsmith ministered and said Mass in the Brindle area between Blackburn and Preston.
At that time, the saying of Mass was an offence punishable by death and Father Arrowsmith was arrested in 1628 and condemned to die as a traitor. He was hung, drawn and quartered, and part of his body exposed on top of the John O' Gaunt Gateway.
George Fox & the Quakers

Quakerism was founded by George Fox who first visited Lancashire in 1652 and subsequently made Swarthmoor Hall (the home of Judge Fell), near Ulverston, the headquarters of the Religious Society of Friends, more commonly known as the Quakers. George Fox was summoned to the Lancaster Assizes on a number of occasions, the most famous of which was in September 1664 when he refused to take the oath and was remanded in custody until the next Assizes. He described his incarceration:
"Then I was put into a tower where the smoke of the other prisoners came up so thick that I could scarcely see the candle that it burned…
Besides it rained in upon my bed… in this manner did I lie all that long cold winter till the next assizes; in which time I was so starved with cold and rain, and my body so greatly swelled and my limbs benumbed."