Thomas Holden
Thomas Holden sentenced to 7 years Transportation to Australia in May 1812 at Lancaster Assize for 'Administering An Illegal Oath' to Isaac Crompton in Bolton.
The riots at Westhoughton and Manchester

Holden, who was a weaver, was tried at the Special Assize held in Lancaster Castle (May 1812) which was convened to try people who had been involved primarily with riots at Westhoughton and Manchester.
The initial unrest had come about due to the desperation of handloom weavers, who were being forced out of their trade by the growth of the factory system, and the consequent hardship inflicted upon their families due to lost earnings. During this whole period sporadic attempts were made by gangs of weavers to destroy the machines that were taking the food from their mouths.
The birth of Trades Unions

During this period many workers began to form Unions, which were, in themselves, illegal.
This was seen as a worrying and highly dangerous development by the government of the day, which had witnessed rebellion in America and revolution in France. It was determined to come down hard on any sign of such behaviour in this country, and early Trades Unionists were very much feared and, when apprehended, treated very harshly by the courts.
Added to this was the way such gangs presented themselves – often roaming the moors, their faces blackened, stopping men at random and forcing them to take oaths at dead of night on pain of retribution if they told anyone of what they had seen. The Luddite movement which began in the Midlands, was almost military in its organisation, its leader the mythical 'General Ludd." They caused a great deal of disruption and were, some believed, set upon nothing less than the overthrow of the government.
The Trial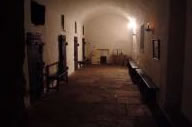 Holden was one of a number of men accused of administering an illegal oath.
It is possible that Holden was a Luddite. There was certainly an accusation of this during his trial. This would have made Holden doubly dangerous in the eyes of the court, and explains why he was convicted on such flimsy evidence, and why he received so harsh a sentence.
At the end of the Assize eight people were executed, one a boy of sixteen who had been involved with the riot at Westhoughton, another a woman of fifty-four, who had stolen bread and potatoes in Manchester. Many more were imprisoned, or like Holden sentenced to Transportation to Australia…virtual exile on the other side of the world.
The Sentence

"It is therefore ordered and adjudged by this Court, that you be transported upon the seas, to such as His Majesty, by the advice if His Privy Council, shall think fit to direct and appoint, for the term of seven years."
After he had been sentenced Thomas Holden wrote this letter to his wife:
"Its with sorrow that I acquaint you that I this day receiv'd my Tryal and has receiv'd the hard sentence of Seven Years Transportation beyond the seas…If it was for any Time in prison I would try and content myself but to be sent from my Native Country perhaps never to see it again distresses me beyond comprehension and will Terminate with my life…To part with my dear Wife and Child, Parents and Friends, to be no more, cut off in the Bloom of my Youth without doing the least wrong to any person on earth. Oh my hard fate, may God have mercy on me…Your affec. Husband until Death."