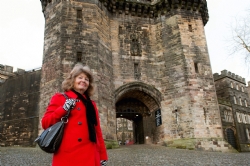 18th March 2014
For the first time since records began, Lancaster Castle is to have a female Constable.
Former head teacher of Lancaster Girls Grammar School, Mrs Pam Barker, has been appointed as the new Constable of Lancaster Castle by Her Majesty the Queen in her role as Duke of Lancaster.
The Constable of Lancaster Castle is an ancient appointment dating back to the 13th Century and Mrs Barker, who succeeds Mr Gordon Johnson is, as far as can be ascertained, the first woman to hold the position. Mrs Barker was head of LGGS from 1987 to 2007, when she was known by her professional name of Barber.
The role of Constable is mainly ceremonial, though she is required to formally offer the keys of the castle to Her Majesty on the occasion of a royal visit.
Mr Johnson's last significant function as Constable was to officiate at the opening of the gates of the castle to the public in Spring 2013, following the departure of HM Prison Service.
The Constable is appointed by Her Majesty for a term of five years and may be reappointed once for a further term of five years.
Speaking of her appointment, Mrs Barker said:
"The Duchy discussed my proposed appointment in advance with local MPs and the Chief Executives of both the City and the County Councils.
Of course the final decision rests with Her Majesty and when I got the news before Christmas that I had been appointed it was very exciting and a huge honour.
I know the position is primarily a ceremonial one these days but I love Lancaster and intend to work hard on behalf of the Duchy and Lancaster Castle. I am looking forward to getting out into the community, including working with schools around the district to let them know about the castle, its history and its exciting future."
Lancaster Castle is open daily from 10am to 5pm. Guided tours run daily and there is a cafe within the inner courtyard. Special events are held throughout the year.