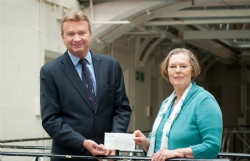 12th June 2014
Officials of The Duchy of Lancaster, owners of Lancaster
Castle, have this week met local Christian charity, The Olive Branch, to
provide a donation for their local cause.
The £1,200 donation comes as a result of the recent A-Wing
music event held over the May bank holiday to celebrate the first anniversary
of the castle being open to the public.
The Olive Branch, based at Westbourne Road in Lancaster, is
a local charity serving and helping socially disadvantaged people in Lancaster.
On Thursday, Chris Adcock, CFO for the Duchy of Lancaster
met with Barbara Kirby, founder of The Olive Branch, to present the
cheque.
Chris says: "Not only has the A-Wing music event opened the
castle to a newer, wider audience of over 1,000 people, it has allowed us to
donate to such a worthwhile cause in Lancaster. We are delighted to be
able to help support a cause that in turn supports so many others in the local
community.
The £1,200 was the licence fee amount paid to the Duchy by
the organisers of the event.