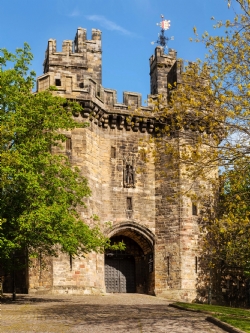 14th July 2014
Last week, Chief Finance Officer for the Duchy of
Lancaster, Chris Adcock, met with local Lancaster journalist Nick Lakin from
the Lancaster Guardian to discuss the current situation at Lancaster Castle.
Mr Adcock confirmed that the Duchy of Lancaster
will embark on major essential repair, maintenance and weatherproofing work at
the castle over the next 18 months to two years. This equates to an estimated
£3 million investment by the Duchy in what is an important, historic English
landmark.
"Such maintenance work is a vital aspect of the
preservation and long-term viability of the site," said Mr Adcock. "Lancaster
Castle has been around for many centuries and the Duchy is committed to taking
as long as necessary to make the correct decision over its future. The Duchy is
still in the consultation phase, is hugely grateful for the large amount of
attention the castle is receiving, and at this stage nothing has yet been
discounted."
"Our immediate intention is to maintain the castle
as a major events venue for both local people of Lancaster and visitors from
further afield. We aim to have it recognised and visited by a much wider and
more diverse range of people. In the short term, we will continue to accommodate
events and open up additional areas around the castle's courtyard where it is
commercial viable to do so. The castle is expensive to maintain and events are
one way of subsidising the ongoing running costs to ensure members of the
public can continue to enjoy visiting one of the country's most fascinating
landmarks."
"For the time being the courtyard will remain
freely open for the public during the day, with a small cost for attendance at
major, organised events."