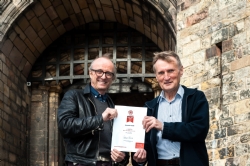 9th October 2014
Our fascinating
guided tours have been given a national accolade by official tourist board, Visit England.
The tours, run several times every day that the castle is open, have just been awarded Visit England's "Best Told Story" accolade which, according to the citation, is an honour: "Awarded for particularly innovative and effective interpretation or tour, telling the story to capture visitors' imaginations."
The award was presented to Lancaster Castle following a 'mystery visit' by a representative of Visit England earlier this year.
The tours are run and managed by Lancashire County Council, whose Senior Museum Manager for Lancaster, Dr Colin Penny, said: "This was a particularly pleasing accolade to receive because of the way it is awarded. The tour guide didn't know when the Visit England representative was going to come and they visited numerous other sites with only the best being recognised in this way. We know our tours are very well received by the public and it is great to have this kind of formal recognition as well."
The guide whose tour was assessed by Visit England, Mr James Houghton, added: "We found out afterwards that we'd been visited and I remember it was a really good group on that tour. It was my tour that came under the spotlight this time but we have a wonderful team of guides all of whom share this accolade.
"I've been a tour guide at the castle for nine years now and, as well as giving my knowledge and experience to the groups I take round, I'm always learning myself. We have a lot of former HM Prison employees on the tours, as well as people who may have had a connection with the Royal Observer Corps who were based here and I get some snippets of interest from them quite often."