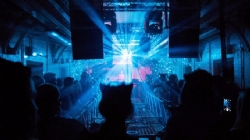 14th April 2015
World-class DJs Pete Tong, Mark Knight and High Contrast will perform at the former prison housed in Lancaster Castle.
Thousands of clubbers are expected to attend the A-Wing event, specialising in dance, drum & bass, house and electro music.
The event will take place over May's second bank holiday weekend in the very intimate confines of Lancaster Castle, which is owned by the Duchy of Lancaster.
Parts of the castle were still used as a category C prison up until March 2011.
A-wing 1st Birthday
Sunday 24th May
8pm til 3am (last entry 10:30pm)
Minimum age: 18
Full lineup:
PETE TONG
Sonny wharton
James Ryan
To book tickets click here
For more information visit www.awinglancaster.co.uk