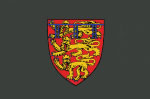 23 April 2015
Lancaster Castle is to mark the 70thanniversary of VE Day on 8th May on behalf of the people of Lancashire.
A specially commissioned v-shaped beacon will be placed on the rooftop of the John of Gaunt Gate and fired as part of a nationwide chain of 139 beacons up and down the country at 21.32 precisely.
Commenting on the commemoration, Chris Adcock, Chief Finance Officer for the Duchy of Lancaster, which owns and manages Lancaster Castle on behalf of the Sovereign, said: "As one of the most important historic castles in the country and a stronghold of the House of Lancaster for centuries, it is absolutely appropriate that this should be the site of the VE beacon. The Duchy is proud to support the people of Lancashire in celebrating this 70th anniversary."
Lancaster Castle is one of the country's most fascinating historic buildings, constructed on an imposing hilltop site overlooking the city. Built on top of the remains of an earlier Roman fort, it has been added to over the centuries to include a 12th century keep, 14th century 'witches tower', 15th century gatehouse and a 19th century female penitentiary. It is a Grade I Listed Building, with the area to the north of it designated as a Scheduled Ancient Monument. It is still used today as an active Court, and was used as a modern day prison until 2011.
Owned by Her Majesty Queen Elizabeth II as Duke of Lancaster, the Castle has witnessed scenes of significant cultural and political impact throughout its history, including the courts of John of Gaunt and Henry IV the trials of the 'Lancashire Witches' and founder of the Quaker movement, George Fox, and some 200 executions for everything from murder to stealing cattle.