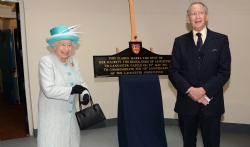 29th May 2015
Earlier this month, we were delighted to welcome Her Majesty
The Queen to Lancaster Castle as part of the celebrations to commemorate the
750th anniversary of the creation of the Duchy of Lancaster.
Welcomed by thousands of well-wishers, Her Majesty arrived
by in Lancaster by Royal Train and was received by the Lord Lieutenant of
Lancashire. The approach to the historic John of Gaunt gate was lined by local
air, sea and army cadets and members of the Duke of Lancaster's own Yeomanry
were in attendance.
On Her arrival at the Castle, Her Majesty was officially
welcomed by the Chairman of the Duchy of Lancaster Council and presented with
the keys of the Castle by Constable Mrs Pam Barker, the first Lady Constable in
the Castle's long history. A band from
the Royal Corps of Signals entertained waiting crowds before playing the
National Anthem and a trumpet fanfare composed by Samuel Hudson. Eight-year old Nancy Weedy, a pupil at Dallas
Road Primary School and chorister at Lancaster Priory, presented her Majesty
with a posy of red Lancaster roses.
Once inside the Castle gates, the Duke of Lancaster met
members of the Duchy Council and local dignitaries. Brownies from 5thLancaster Bowerham and cubs from 35th Lancaster, Skerton formed a
guard of honour into the Chapel Courtyard where actors from local company
Demi-Paradise performed an extract from Shakespeare's Richard II.
A reception was held for invited guests in A-wing, an area of the Castle closed to the public as part of Her Majesty's
Prison Lancaster until 2013. Today, more areas of this historic building are
open to the public than ever before and its long history is the subject of
regular guided tours throughout the year.