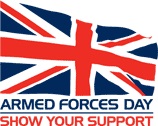 27th June 2015
Lancaster Military History Group presents a day of themed
activities to mark Armed Forces Day. Events will include displays by the Armed
Forces and an exhibition of historic military vehicles, uniform and equipment.
At Lancaster Castle
Thelocal cadet units will perform displays and take part in an assault
course, plus there is a chance to experience the Lancashire ACF Cadet Corps of
Drums. A Living History group will be on hand to demonstrate Women of the 40s'
uniforms and fashion clothing, and there will be a chance for kids to try on
some military uniforms too. Lancaster University History Department will bring
a display of the city, marking the casualties experienced.
There will also be a climbing wall, local history and archive
materials to view, and a Jazz Band in the afternoon.
A raffle will raise funds for the Royal British Legion and the Blind
Veterans UK charities. There is free entry to this event.
At the City
Museum
The King's Own Royal Regiment Museum will be open between 10am and 5pm,
exhibiting materials and images to mark the centenary of the Great War of 1914
– 1918.
At The Storey
Acclaimed historian and author Nigel Sale will give a talk at 7pm, entitled
'Waterloo 200 Years On'. Whilst this talk is free, it is recommended that you
book your places in advance by emailing lmhg@live.com.
Castle and City Walks
– Lancashire County Council will guide parties to the Roman Excavations
"Beyond the Walls" – ask for details at the castle on arrival.
– A self guided tour of the city "Lancaster WW1 Walking Trail"
isavailable from the LMHG gazebo in the castle during the weekend or from
Lancaster Visitor Information Centre.