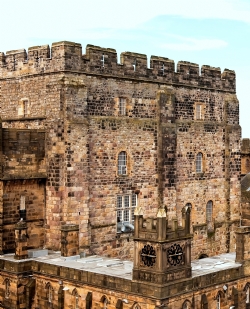 11th August 2015
The Duchy of Lancaster has commissioned a £3m programme of remedial and restorative works designed to protect the historic fabric of Lancaster Castle. Over the next two years, the Duchy team will work with heritage architects, archaeological specialists, structural engineers and conservationists to restore further areas of the Castle to a weatherproof, watertight and structurally sound condition.
Visitors to Lancaster will be aware that work is currently underway on the roof of the Victorian clock-tower and rooms previously used as debtor's workshops. Scaffolding is expected to come down by October this year.
Commenting on the future of the Castle, Duchy CEO Nathan Thompson said: "We have two main objectives running in parallel – firstly, to protect the Castle for future generations and secondly, to share this truly historic landmark with the people of Lancaster and encourage more visitors to the city. Many events already take place here and our intention is to open up more and more of the internal spaces as the necessary
improvement works are completed. We believe that the Castle is not only an important heritage site of which Lancastrians should be immensely proud, but that it should also provide a central focus for Lancaster's vibrant social and cultural life."
Lancaster Castle is one of the oldest heritage assets owned by the Duchy of Lancaster and a key part of the ancient inheritance which began in 1265. The Shire Hall and Crown Court side of the building has been leased to Lancashire County Council since the 1930s while the rest of the Castle was occupied by the Ministry of Justice and operated as Her Majesty's Prison Lancaster until 2011. Since the Castle was returned to the Duchy's ownership in 2012, much investigation work has been done to establish the true condition of the building and establish the most appropriate solutions for repair and renovation.
Since the historic John O'Gaunt Gate was first opened to the public in 2013, the Castle has hosted a wide variety of events, including children's activities, guided tours, battle re-enactments and promenade theatre. In 2015, it will again be the venue for the city's highly successful Lancaster Music Festival and Light Up Lancaster festivities.
In May 2015, the Castle was the centrepiece of a Royal visit by Her Majesty the Queen as Duke of Lancaster, commemorating the 750thanniversary of the ancient Lancaster inheritance.
For more information, please visit our website: www.lancastercastle.com.