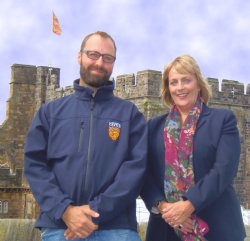 4th September 2015
The new management team at Lancaster Castle is making its presence felt, with a summer programme of family-friendly activities enjoyed by over 10,000 people.
Combining open air music concerts, silent cinema, story-telling, circus skills, battle re-enactments, training workshops and even the chance to meet Ol Demdike the Pendle Witch, the summer programme has literally had something for everyone.
The programme has been developed by a new management team at Lancaster Castle, appointed earlier this year by the Duchy of Lancaster. Events Manager Chris Selkirk and Communications Manager Debbie Garritty are working closely with Lancashire County Council, Lancaster City Council, local residents and business people to make sure the Castle offers a wide range of activities to suit all tastes, while actively supporting community events.
Local resident Chris is a graduate of Leeds Metropolitan University with a degree in Event Management and professional qualifications in health and safety disciplines. His previous experience of managing annual programmes for both public and private sector clients includes the staging of national sporting events, music concerts, cultural parades and celebrations, product launches, conferences, exhibitions and charity events.
Duchy Communications Manager Debbie Garritty has over 30 years experience in senior communications roles for clients in the property, planning and construction markets. A former Press Officer of the Royal Institute of British Architects and Head of the Property and Planning practice at Bell Pottinger, she joined the Duchy as its first in-house communications professional in April 2015.
Both are passionate about the idea of bringing the Castle to the people.
Duchy CEO Nathan Thompson is pleased with the progress to date: "Our aim is twofold to restore the fabric of these extraordinary buildings and to open up as much of the Castle as possible to the local community and visitors. The Duchy is investing significant sums in improvement and restoration works to protect these buildings for future generations. We recognise that the Castle is a heritage landmark of international importance which will attract new people into Lancaster from all over the world.