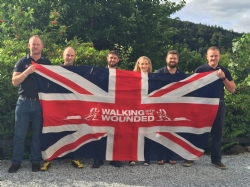 14th September 2015
The Walk Of Britain team enter The North West
Lancaster Castle will be the finishing point for the days walking expedition on Wednesday 16th September. The arrival time will be between 430pm – 530pm
Six wounded
veterans, 1,000 miles, 72 days
WWTWs walking partner for week four is the National Football League
On Monday 14th September six veterans will enter the North West, marking the beginning of Week Four of their epic 1,000 mile, 72 day expedition from Scotland to London. All six individuals have either physical or cognitive injuries sustained in the line of duty.
Walking With The Woundeds latest endeavor, the Walk Of Britain, presented by YESSS Electrical will see six wounded veterans walk over 1,000 miles through mainland UK throughout August, September and October, finishing at Buckingham Palace on 1st November. The walk will engage with local communities every day to highlight the extraordinary determination of Our wounded personnel and to raise awareness of the work that Walking With The Wounded (WWTW) is doing across the country to support the wounded back into independence through long-term employment.
Walking With The Woundeds
walking partner for Week Four is the National Football League.
The core team of four British wounded veterans and two US wounded will be joined by other wounded personnel and celebrities each week to show their support. During Week Four the team will be joined by Heather Stanning to climb Scafell Pike. Heather is a serving Captain in the Royal Regiment of Artillery who, along with her pair Helen Glover won the first Gold medal in the 2012 London Olympics in womens rowing. Heather and Helen recently kept their title as the best of the womens pairs, winning the 2015 World Cup in France.
Sir Chris Bonnington will be greeting the team at the Skiddaw Hotel at 18:45 on Monday 14th September following their climb of Scafell Pike. Sir Chris is a British mountaineer whose career has included 19 expeditions to the Himalayas, including four to Mount Everest and the first ascent of the south face of Annapurna.
The Walk Of Britain team will also be joined by NFL legend Osi Umenyiora from Thursday 17th September to Saturday 19th September. Osi retired recently after a career in which he was a two-time Super Bowl champion with the New York Giants. He was born in London and is one of three UK born players to have won the Super Bowl. Osi is married to Leila Luliana da Costa Vieira Lopes, an Angolan model and beauty queen who won the titles of Miss Angola UK 2010, Miss Angola 2010 and Miss Universe 2011.
Prince Harry has supported Walking With The Wounded since the charity was formed, taking part in the trek to the North Pole in 2011 and to The South Pole in 2013. He was also Patron of the WWTW Everest Expedition in 2012 and is again the Expedition Patron for The Walk of Britain and will be joining the team along the way.
The Walk Of Britain is fully funded by sponsors, with Yorkshire-based YESSS Electrical being the title partner of the expedition.
Alistair Kirkwood, NFL UK Managing Director commented: "We are very proud to be supporting Walking With The Wounded and are very excited about the opportunity to raise awareness of the Walk of Britain, said ALISTAIR KIRKWOOD, Managing Director of NFLUK. "Our teams and players have nothing but admiration for the inspirational people taking part in this incredible initiative.
Week Three
Route through the North West
Date

Start

Finish

14.09.2015

Scafell Pike

Scafell Pike

15.09.2015

South Lake
Windemere

Newby Bridge

16.09.2015

Middleton

Lancaster Castle

17.09.2015

Cockerham

BLESMA Home,
Blackpool

18.09.2015

Bingley Grammar School

Ripponden

19.09.2015

Helly Hansen Watersports Centre, Salford

The Manchester
Cenotaph, St Peter???s Square

20.09.2015

DAY OFF

DAY OFF
The core team consists of:
Stewart Hill suffered a Traumatic Brain Injury (TBI) on 4th July 2009 whilst commanding B Company, 2 MERCIAN in Afghanistan which has resulted in brain impairments within his executive function brain area, chronic fatigue, memory problems, severe and persistent tinnitus and bilateral hearing loss.
Matt Fisher sustained a gunshot wound to his left foot on Boxing Day 2009 in Afghanistan which resulted in subsequent elective left leg amputation 12 months later
Alec Robotham suffered severe right leg trauma as a result of shrapnel damage from a suicide bomb incident whilst on operation in the Helmand district of Afghanistan in 2010. He also suffered puncture wounds in his right leg, right arm, secured hearing damage and a left foot drop (metal plate was then inserted).
Scott Ransley is blind in his right eye as a result of an IED blast whilst clearing an IED factory
Kirstie Ennis suffered full thickness facial trauma, oral and maxillofacial reconstruction, damage to her cervical and lumbar spine, hearing impairment, bilateral shoulder trauma, a traumatic brain injury, and left foot limb salvage
Andrew Bement suffers from PSTD with depression and suffered a Traumatic Brain Injury resulting in diminished executive functioning.
Edward Parker, Co-founder and CEO of Walking With The Wounded commented: "The first few weeks have gone very well although the team are finding the miles walked each day tough and fatigue has settled in. The team have been amazed by the amount of public engagement the walk has created and touched by the numbers that turn out each day to support them on their journey. We are very excited to be walking through the North West with our partner for the week, the National Football League, and are confident the North West will produce the best support for the team so far!
On their journey the team will be joined by other wounded veterans to lend their support as well as a number of celebrities. They will also be joined by the wonderful Military Wives, ladies so close to the military, unstinting in their support for husbands, brothers, partners. The Scout Association is encouraging local groups to join the Walk as part of a wider plan we have with them whereby we are encouraging ex-servicemen and women to become adult volunteers in Scouting.
The team hope that as they travel through the country, people will turn out and support them, and everyone will get behind them as they head towards their goal.
Please do follow our Walk Of Britain expedition and help us to spread the word, raising awareness of and funds for our wounded: http://walkingwiththewounded.org.uk/walkofbritain2015/ #WalkOfBritain @supportthewalk.
To see the route the team will follow please click here.
People are able to Buy A Mile of the Walk Of Britains 1000 mile expedition from Scotland to London to be in for the chance of winning a prize: http://walkingwiththewounded.org.uk/walkofbritain2015/