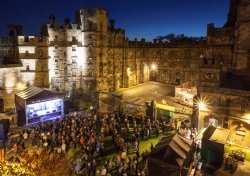 8th October 2015
Historic Castle Hosts Award-Winning Music Festival
The Duchy of Lancaster is delighted to make historic Lancaster Castle available as the site of the main stage for the Lancaster Music Festival, one of the countrys largest self-funded music events, for the second year in succession.
Running from 8th to 12th October at over 40 venues across the city, the Festival is free to attend* and is expected to attract some 55,000 visitors to Lancaster.
The award-winning Festival, now in its 7th year, is supported by the Lancaster Business Improvement District (BID) and sponsored by local businesses. Over that period, it has grown from a 2-day event held in half a dozen local pubs and clubs to a significant date in the international music calendar, this year offering 345 performances from 185 acts over 5 days. It is even staking a claim for Lancaster to create a new bank holiday weekend aligned to the Festival under the banner headline Take Monday off!
Headliners for 2015 will include local favourites The Feud and international funk band, Sensory Hoverload from New Jersey USA. They will be supported by local, national and international bands and musicians playing all genres and types of music to deliver a programme that suits all tastes.
More than 40 venues are taking part in the Festival. Family-friendly performances will be held in the main city squares (Market Street, Sun Street and Dalton Square) and there will be a new International Stage in front of the Judges Lodgings on Church Street.
Commenting on the growth of the event, Festival Coordinator Ben Ruth said: This will be our biggest Festival yet, bringing national and international acts from as far afield as Australia, Armenia, Brazil, Canada, Poland and the USA to play alongside an amazing pool of local talent. The local community, businesses and residents have really got behind the event, recognizing it as an opportunity to showcase the amazing diversity of culture, history and talent on offer across this city.
Last years Festival was attended by around 40,000 visitors and is estimated to have boosted the local economy by over £1m.
* Please note that while the majority of events are free, those on the main stage and at some other venues may incur a small charge. All proceeds go directly to Lancaster Music Festival to cover musicians??? costs.
Details of the 2015 Festival events are available on the website: www.lancastermusicfestival.com.