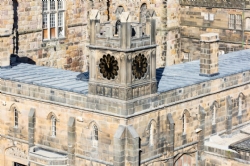 16th October 2015
After months of being covered in scaffolding and protective sheeting, Lancaster Castles Victorian clock-tower is revealed this week, following restoration work on the roof, clock face and bell.
The historic clock, believed to date back to the 1820s, has had a new automatic winding mechanism installed, and its three faces and clock-hands painstakingly restored and re-gilded. The original movement has been cleaned and lubricated, and new lines have also been fitted to the weights.
The original bronze bell, dated 1823, was cracked in several places. It has now been expertly repaired, its clapper restored and a replacement oak support frame built to the original design to house it. During the installation of the new frame, a piece of 19th century graffiti was uncovered, a signature carved into the lead roof which read J Shrigley, 1840. This inscription has been preserved.
The fully restored clock will be unveiled this week and the bells will chime the hour from noon on Friday 16th October 2015.
Commenting on the restoration work, Duchy Chief Executive Nathan Thompson said: "The Duchy of Lancaster has committed significant resources to restoring the fabric of these historic buildings and much of this work, by necessity, goes unseen. It is really pleasing to be able to show the people of Lancaster a small part of the work that has been undertaken in recent months as the scaffolding around the tower comes down. We are very pleased with the result and the hard work and dedication of all those who have worked on the project.
The works to the clock assembly were carried out by The Cumbria Clock Company in Penrith and the specialist repair of the bell by Soundweld in Suffolk.
Although not visible to the public, extensive work has also been completed to restore and replace the historic lead roofs of the clocktower and surrounding workshops around the clock-tower.
The next phase of scheduled works, which will focus on the female penitentiary one of the country's last remaining examples of the panopticon design and along the western facade of the courtyard, will begin in January 2016.
Local community group Lancaster Vision (Lancaster Civic Society) has welcomed the work that the Duchy of Lancaster is undertaking at the Castle and appreciates the long-term commitment made by the Duchy to keep the Castle open to the public: "We believe strongly that the future prosperity of the city is inextricably linked to our history and heritage, said Chair Martin Widden, "and we understand that this requires us all to buy into a common vision and purpose. We recognise the Duchys commitment to restoring and repairing the Castle and welcome this manifestation of some of the work thats been going on behind the scenes since the beginning of the year.
For further information on Lancaster Castle, including details of events and guided tours for visitors, please visit our website www.lancastercastle.com.