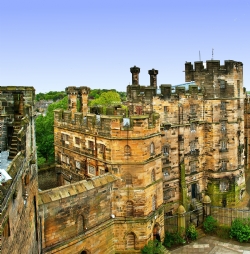 29th February 20016
The latest 12-month schedule of repair, restoration and improvement works is underway at Lancaster Castle.
Following a competitive tender process, York-based specialist contractors William Anelay have been appointed to carry out the £1.4m contract which will be delivered in two phases, running approximately January to June and July to December 2016.
Phase 1 of the work will focus on the female felons, female penitentiary and debtors prison buildings, while Phase 2 will involve the gatehouse and Governor's House. Similar works are involved in both Phases' roof repairs and replacement, masonry repairs and restoration and some window repair and reglazing. Local stone and traditional materials such as slate and lead will be used throughout.
William Anelay is one of the best known restoration contractors in the country. Founded in 1747, the firm specialises in bespoke projects, including works at Westminster Abbey, Shrewsbury Cathedral, Chester City Walls, York Minster, Althorp House and Pontefract Castle.
Commenting on the works underway at Lancaster Castle, company chairman and director of special projects Charles Anelay said: "We want to be the preferred contractors for those who own and commission work on the restoration and conservation of historic buildings, so we are delighted to have been awarded this contract. The Duchy of Lancaster is clearly committed to repairing and restoring the Castle buildings over the next few years. This requires a methodical, painstaking approach, combining craftsmanship with a clear understanding of architectural heritage and modern building practices. We believe that we can deliver just that.
The completion of this latest schedule of works will ensure that the majority of the Castle's historic buildings are weather-proof and watertight by the end of the year, protecting and preserving this heritage asset for future generations.
"We are delighted to welcome William Anelay to the team, said Graeme Chalk, Head of Special Projects and Historic Buildings for the Duchy of Lancaster. "They have a first-class reputation for complex restoration projects and we are confident that they will do an excellent job at Lancaster Castle. We would ask the local community to bear with us in the months ahead as the necessary works will involve scaffolding and the shrouding of some of the buildings. Please be assured that we will keep this to a minimum and will continue to ensure that as much of the Castle as possible remains open to the public throughout the year.