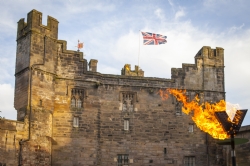 28th April 2016
The Duchy of Lancaster was delighted to celebrate Her Majesty The Queen's 90th birthday in the company of the Lord-Lieutenant of Lancashire, representatives of the Queen's Own Yeomanry, and cadets from Stonyhurst College at Lancaster Castle last week.
At a private reception in the Castle Courtyard, guests were entertained by the Lancaster Royal Grammar School Band and a trumpet fanfare to announce the lighting of a rooftop beacon on top of the historic John O'Gaunt Gate. The beacon was one of a chain of similar beacons lit across the British Isles in celebration of Her Majesty's birthday. The Queen's Own Yeomanry and a unit of cadets formed the guard of honour for the Lord-Lieutenant as Her Majesty's representative in the county.
Following a warm welcome from the CEO of the Duchy of Lancaster, Nathan Thompson, Lord Shuttleworth KCVO read a message of support from His Royal Highness The Prince of Wales before lighting the beacon. The Lord-Lieutenant then went to on to propose the traditional Lancastrian toast at the closure of the ceremony, following the singing of the National Anthem.
Her Majesty The Queen is not only the longest reigning British Monarch, but also the longest serving Duke of Lancaster, having acceded to the Dukedom when She came to the throne in 1952.
Commenting on the celebrations, Duchy CEO Nathan Thompson said: "It seemed entirely fitting that we should mark the occasion of Her Majesty The Queen's 90th birthday in this historic Castle with a reception to celebrate the close links that the Duchy of Lancaster has with this city. Lancaster is often said to be at the heart of the Duchy and the Castle is at the heart of the city."
Since the Castle was decommissioned as a working prison in 2011, the historic buildings have been fully investigated by architectural historians and archaeologists and a programme of restoration works initiated to protect and preserve the Castle for future generations.