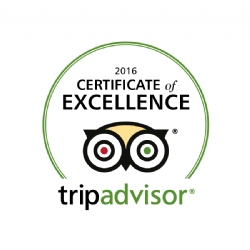 Lancaster Castle has once again this year received a Certificate of Excellence for 'superior service' from the world's largest travel website, TripAdvisor.
The Certificate of Excellence is awarded in recognition of the quality, quantity and timeliness of reviews submitted by visitors over a 12-month period. To qualify, a destination or venue must maintain an overall TripAdvisor bubble rating of at least four out of five, have a minimum number of reviews and must have been listed on TripAdvisor for at least 12 months. Now in its sixth year, the award is designed to celebrate operators who deliver a quality customer experience and the highest levels of service throughout the
year.
Commenting on the award, Debbie Garritty, Head of Comms for the Duchy of Lancaster, said: "We are delighted to hear that the Castle has been awarded the Certificate again this year. Direct feedback is really important to the team working at the Castle as we are continue to look at ways in which we can improve our offering, while continuing with our ongoing repair and restoration work.
"The positive comments, reviews and testimonials we have received are down to the hard work of everyone on the team – our fantastic tour guides, café staff, security guards, events team and even the contractors
working on the fabric of the building have all played an important part in keeping the Castle open to the public throughout the year."
Lancaster Castle is open daily from 09.30 to 17.30. Guided tours take place throughout the day and tickets are available from the Castle Gift Shop or via the website. Our café Nice@theCastle is open from 09.00 until 17.00 every day, serving hot and cold drinks, snacks and meals to cater for all tastes. For details of special events, please visit our dedicated Events page or follow us on Facebook for regular updates.