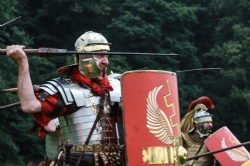 18th July 2016
The Romans are coming to Lancaster Castle next weekend (23rd /24thJuly 2016) to reclaim their former fortress!
Legion VIII Augusta MGV is a group of enthusiasts of all ages and from all walks of life who have been researching, recreating and presenting examples of daily life in Roman Britain for over 20 years. This is their first visit to Lancaster Castle, spurred on by the national media coverage of recent archaeological activity led by the city's Beyond the Castle project.
Visitors will be able to visit a living history encampment, enjoy military fighting and armoury demonstrations, view a Roman Torsion Artillery device as up close and try their hand at archery, Roman calligraphy and making their own denarius within the Castle courtyard.
There will also be an opportunity to see and hear all about the exciting archaeological finds around the Castle, with talks by Beyond the Castle's lead archaeologist Jason Wood and a fascinating exhibition of the project's findings so far including artefacts unearthed at Quay Meadow. Site tours to explore the current dig on Castle Hill will take place from the Castle at regular intervals throughout the weekend.
The Roman invasion will be open to the public from 10.30 am to 5.00 pm daily and there will be a nominal entry charge of £1 for all visitors to the Castle over that weekend (payable on the door).
Guided tours of the Castle buildings will also be taking place throughout the weekend and our licensed café and Gift Shop will be open from 09.30 am to 5.00 pm. Tickets for the guided tours can be
booked in advance by telephoning 01524 64998 or can be purchased in the Gift Shop.