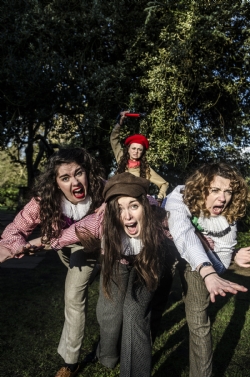 29th July 2016
Handlebardettes present The Taming of the Shrew (Friday 5th August) and Romeo and Juliet (Saturday 6th August) at Lancaster Castle
A touring theatre troupe is stopping off at Lancaster and putting Shakespeare in a spin next month with an open-air performance of two of Shakespeare's plays, The Taming of the Shrew and Romeo and Juliet.
The Handlebardettes is a troupe of four females aged between 23 and 31 years of age, who are cycling more than 1,000 miles to perform these plays at over 50 different venues across the UK en route to this year's Edinburgh Fringe Festival.
Although the Handlebards have been performing since 2012, this is the first time an all-female troupe has taken to the saddle and put their show on the road. Founder of the Handlebards Paul Moss said: "We began as an
all-male company to emulate how things used to be done in Shakespeare's day. But we live in a different world now. Shakespeare wrote his plays for small casts of the same gender, and we stay true to that – just with a few extra twists and turns here and there."
The Handlebardettes will be giving their unique and energetic renditions of The Taming of the Shrew and Romeo and Juliet in the Castle courtyard at 6.30 pm on Friday 5th and Saturday 6thAugust respectively. Carrying all their props, set and costumes between their handlebars, they promise an innovative take on traditional theatre with a performance that is billed as being 'extremely energetic, charmingly chaotic, environmentally friendly and cycle-powered'.
The Taming of the Shrew is directed by James Farrell and Romeo and Juliet by Nel Crouch.
Tickets are priced at £15 for adults and £12 for children (family tickets also available) and can be bought online or in person at the Lancaster Visitor Information Centre at the Storey Institute or via the Lancaster Caste website www.lancastercastle.com