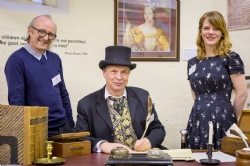 11th August 2016
Lancaster Castle is to open up the A-Wing as part of its guided tours from next Monday (15th August), with a new 'Prison Life' exhibition set up in the ground-floor cells.
Each cell will focus on a particular aspect of prison life, including food, work, health, religion, recreation and punishment. Historic artefacts secured by the Lancashire County Council (LCC) Museums Service will be on display, supported by wall panels explaining the historical context and genuine quotes from prisoners and former prison guards displayed on the walls.
Although this will be a 'walk-through' exhibition which encourages people to view the cells at their own pace, visitors will only be able to access A-Wing as part of a guided tour by official LCC staff. There will be no extra charge for this extension to the existing tour, with ticket prices held at £8.00 per adult and £6.50 for concessions (£20 for a family ticket).
Commenting on the exhibition, which has been jointly managed and funded by Lancashire County Council and the Duchy of Lancaster, County Councillor Marcus Johnstone, Lancashire County Council's Cabinet Member for Environment, Planning and Cultural Services said: "There has always been a great deal of public interest in A-Wing, which is a traditional Pentonville-style prison as seen in popular films and TV programmes, such as Porridge. Originally started in the 1820s, it incorporates a panopticon, a glass atrium and 18 cells over each of 3 floors. The addition of this to our guided tours will open up more areas of the prison to the general public and help them to understand that part of the history of the Castle is as a place of incarceration and imprisonment."
Duchy Chief Executive Nathan Thompson added: "We promised to open up as much of the Castle as possible to members of the general public, residents and tourists to the city. This is the latest manifestation of us delivering on this promise and we will continue to do this as the restoration works are completed."
The prison life exhibition will be added to the Castle's guided tours from Monday 15th August 2016.
Pictured (l to r): Lancaster Castle Museum Manager Dr Colin Penny with Assistant Managers Dr Graham Kemp and Ms Rachael Jackson in the warden's office at Lancaster Prison.