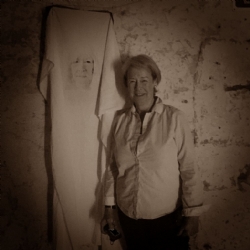 15th August 2016
Visitors to Lancaster Castle this week will have an opportunity to commemorate the world-famous Pendle witches, tried and incarcerated at Lancaster Castle over 400 years ago.
Ol' Demdyke will be in residence in the very dungeon in which she died awaiting trial and the spirit of the Pendle witches will be represented by a stunning exhibition of laser-cut imagery created by PhD student and artist, Ailsa Read.
The Pendle Witches lived during the reigns of Elizabeth I (1558 – 1603) and James I (1603 – 1625). As a result of King James I's firm belief in the existence of witchcraft, an Act was passed which imposed the death penalty 'for making a covenant with an evil spirit, using a corpse for magic, hurting life or limb, procuring love, or injuring cattle by means of charms'
Two families were at the centre of the Pendle case, brought on the basis of questionable evidence and the testimony of a nine-year old child. The heads of those families were two elderly widows who were known locally by their nicknames: 'Old Demdyke' and 'Old Chattox'. At their trial, held in Lancaster Castle in August 1612, none of the ten prisoners accused was allowed defence counsel to plead for them, nor permitted to call any witnesses to speak on their behalf. They were found guilty, sentenced to death and hanged on the moor above the town.
Ailsa Read has spent several years researching the persecution of wise women as witches and in particular the injustices done to the Pendle witches. She has walked the 51-mile route believed to have been taken by the women from Barrowford to Lancaster Castle and has used her artistic skills to create a haunting, atmospheric exhibition which commemorates their lives.
The exhibition, which is located in the workshop of the Well or Witches Tower within the Castle, will be open from Friday to Sunday (inclusive) and is free to enter. Ailsa herself will be present throughout the day to talk about her work and the story that it tells. Entry to the Witches Dungeon to speak directly to Ol' Demdyke about her experiences is by ticket only and is available on Saturday 20th only (ticket price: £3.00).