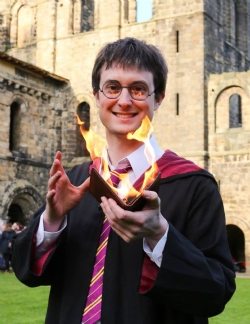 18th August 2016

The Duchy of Lancaster has teamed up with one of the UK's leading interactive film experience companies to transform Lancaster Castle into a magical School of Wizardry over the August Bank Holiday weekend.

Sneaky Experience specialises in bringing cinema to life,
with interactive events themed around film screenings. On the Bank Holiday weekend, visitors to Lancaster Castle will be able to enjoy the Harry Potter films in a historic Castle setting and in the company of a crazy cast of characters. Films will be screened twice-daily (see details below) in the presence of wandering wizards, grim gatekeepers and Gobby the Goblin. Promising 'chaos in the cloisters', this cast of magical characters will both entertain visitors and instruct ticket-holders in the art of Charms, Potions, Herbology and Broomstick, with classes taking place throughout the day.

In Charms Class, apprentice wizards will make their own wands and learn the correct stance for casting the perfect spell. In Potions Class, Master Mixers will help visitors to create their very own crazy concoction, mixing up fizzy drinks with a sprinkle of wizarding know-how. There will be also be Broomstick-making Classes, live owls on parade and a magic performance within the Castle courtyard.

Ticket-holders will also be appointed to one of four School of Wizardry Houses and take part in team games to earn house points. Members of the House with the most points at the end of the session will be awarded with a prize to mark their achievement. For those who enjoy something a little less strenuous, there will be an opportunity to visit the Sneaky Cauldron and sample a special I-Cant-Believe-Its-Not-Butterbeer brew, as well as a wide range of themed food and drink products from local independent stall-holders.

Please note: you must have a ticket to be able to join the fun! Tickets are available online at www.wegottickets.com/sneakyexperience or from the Lancaster Visitor Centre at The Storey Institute. All visitors are invited to arrive in costume or fancy dress as part of the experience. The Sneaky Experience motto is 'Don't just enjoy the film. Be part of it!'

Separate guided tours of the Castle will also be running throughout the weekend, but will begin from the Castle's Shire Hall entrance rather than the John of Gaunt gate or courtyard. To book a guided tour, please call 01524 64998.