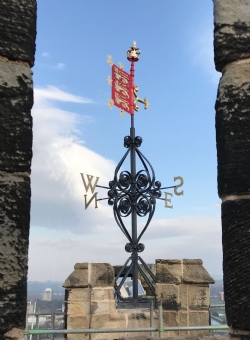 24th February 2017
As part of the ongoing repair and restoration works currently underway at Lancaster Castle, the Duchy of Lancaster has refurbished and re-installed a historic weather vane on the top of the John O'Gaunt Gate.
The origins of the 40-kilo lead, iron and copper weather vane are believed to date back to around 1727, although it is possible that a vane was first erected here as part of the post-Civil War repairs in the 1690s. It stands on a stone block which fills the whole of the North East turret look-out post at the top of the Gatehouse.
By the 1950s the weather vane had become drab and indistinct with almost none of the original paintwork remaining. In 1958 the prisoners at Lancaster Castle took it down and refurbished it in the colours of the Duchy arms, re-gilding the fleur-de-lys at the fringes and restoring the crown at its peak. In 1989, it was repaired and restored once again by the Prison Service with the help of local firm Harrison and Hutchinson.
This latest restoration has been painstakingly undertaken by the Duchy's heritage architects, stonemasons, metalworkers and sign-painters. The team has drawn on all available historical records to match the vibrancy of the colours and reproduce the design as faithfully as possible.
The finished weather vane was re-installed at the top of the Gatehouse earlier this month and, as the scaffolding is removed, will be clearly visible to the people of Lancaster.
Commenting on the project, Duchy Head of Project Management Graeme Chalk said: "All of the work that we are doing at Lancaster Castle is designed to restore and preserve the historic fabric of the buildings. We felt that the restoration of the weather vane was an integral part of that process and we are delighted with the skilled workmanship that has brought it back to its former glory. It now stands proudly at the top of the Gatehouse looking out over the city, where it has stood for at least 300 years and where we hope it will remain for future generations."
The restoration work was carried out by specialist metalworkers Calibre Metalwork, heritage signwriters Martin Rooney and the building conservation team of Manchester and Cheshire Construction. The work was overseen by the Duchy's heritage architect, Alan Davies of BDP.