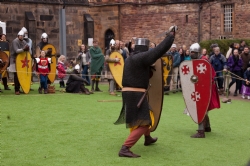 24th march 2017
p>Visitors to Lancaster Castle will have an opportunity to travel back in time this Easter and experience life as lived by our Norman ancestors. Local re-enactment society Historia Normannis will be invading the Castle and setting up camp in the courtyards to creative an immersive medieval experience throughout the Easter weekend (Saturday 15th to Monday 17th April 2017).
The three-day event will give a rare insight into the daily lives of lowly peasants, hard-working soldiers, chivalrous Knights and even an Earl. Arena combat displays, living history areas, humorous historical presentations, skills demonstrations and have-a-go activities will combine to give visitors the chance to get up close to our medieval history and experience it for themselves.
Visitors will experience the sights, sounds and even smells of a medieval battle as two sides clash in competitive combat and tournaments. Demonstrations will include military training, the correct use of weaponry and the arming of a Knight. The walls of Lancaster Castle will once again echo to the sound of swords and shields!
Every aspect of Norman life will be explored, from the food and songs of the time to the medical care on offer in our Doctors Leach Tent. Replica documents will be on display in the Scriptorium and first-hand demonstrations of the skills and craftsmanship of the age will take place throughout the weekend. The sitting of a medieval court will also be re-enacted to illustrate how the Shire and Bishops Courts dealt with crime and punishment and civil disputes.
Finally, there will be an opportunity to test popular myths and Hollywood legends around knightly arms, armour and behaviour in the Hurried History and Mythbusters features. For a small additional charge, visitors will also be able to try their hand at archery, fire water balloon siege engines and strike their own medieval coins.
Entry to the Castle throughout the weekend will be charged at £3 per person.