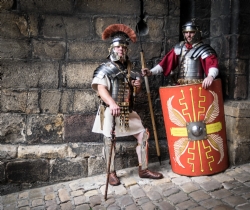 24th June 2017
Invasion returns to Lancaster Castle next weekend (29th/30th July 2017)
The Eighth Legion is returning to Lancaster Castle next weekend, bringing Roman Britain back to life with a display of Roman military tactics, armour and equipment.
Visitors will be able to try their hand at archery under the expert guidance of our soldiers, and see an authentic replica of a Roman Artillery machine that can shoot arrows up to 400 metres at over 85 miles per
hour. Roman tools will be on hand in the workshop as well as a range of Roman footwear, food, costumes and artefacts from daily life back in the year 43AD.
This will be the second time that Lancaster Castle has opened its doors to a Roman invasion by Legion VIII Augusta MGV, a group of enthusiasts of all ages and from all walks of life who have been researching,
recreating and presenting examples of daily life in Roman Britain for over 20 years.
Commenting on the range of activities on offer, Robin Brown (Squatmatus) from Legion VIII Augusta MGV said: "Our aim is to demonstrate the realities of Roman life, from the food the army ate, to the training regimes they endured and military tactics they employed to conquer most of the known world. Forget stuffed dormice, this is about what the people of Roman Britain really ate and the way in which they conducted their everyday lives."
The Roman invasion will be open to the public from 10.30 am to 5.00 pm on Saturday and Sunday and there will be a nominal entry charge of £3 for all visitors to the Castle over that weekend (payable on the door). Military displays will take place at 11.30am, 2.00pm and 4.00pm each day.
Guided tours of the Castle buildings will also be taking place throughout the weekend and our licensed café and Gift Shop will be open from 09.30 am to 5.00 pm. Tickets for the guided tours can be booked in advance by telephoning 01524 64998 or can be purchased in the Gift Shop.