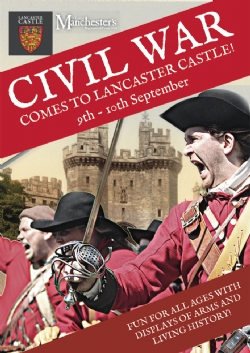 6th September 2017
As part of their support for this year's Heritage Open Day weekend, the Duchy of Lancaster and Lancashire County Council are providing free access and tours of Lancaster Castle this weekend – plus an opportunity to step back in time!
On Saturday 9th and Sunday 10th September, visitors will not only be able to tour the Castle, they will also enjoy a live re-enactment of the English Civil War. The Earl of Manchester's Regiment of Foote of the Sealed Knot will be garrisoned at the Castle throughout the weekend giving live weapons demonstrations (musket and pike), drill training would-be recruits and providing an insight into daily life in the 17th century. Pike drills, musket speed-loading, sword demonstrations and battle tactics will all be explained, with opportunities to take part in most activities. The military encampment will also include an apothecary's tent, cooking tent and displays of artisan crafts. The start of each day's events will also be signalled by a round of musket fire from the Castle's iconic gatehouse.
Lancaster Castle played a pivotal role in the English Civil War, held first by the Royalists and then captured by the Parliamentarians in 1642. The following year, the Royalists attacked the town and attempted to take back the Castle. They were unsuccessful in this and subsequent attempts throughout the War, although the Castle was eventually returned as part of the Restoration of the Monarchy in 1660.
The Civil War Living History weekend was originally a ticketed event with entry priced at £3. However, as the dates coincide with Heritage Open Day this year, access to the event will be provided entirely free of charge. Guided tours of the Castle's historic buildings will also take place throughout the day and are also without charge. Visitors should note however that numbers on these tours are limited and that places will be allocated on a 'first come, first served' basis. It is not possible to pre-book a tour during this weekend.
Commenting on the event, a Duchy spokesperson said: "We are delighted to welcome the Regiment to Lancaster Castle and very pleased to be able to support this year's Heritage Open Day event. One of the Duchy's core objectives is to encourage the widest public participation in the Castle and its history. This Civil War re-enactment highlights a particularly turbulent period in England's history and we very much hope that large numbers of visitors will take this opportunity to learn about the important part played by the people of Lancaster in defending this historic fortress."